I believe that Kathinka is a creative dance artist who works with integrity and astuteness. I think she has much to offer to the art world in the future.
(Sue MacLennan, London Contemporary Dance School)
Kathinka's choreographic work ranges from stage work to site specific and installation work. She works on her own projects as well as commissions from various institutions and companies. Interested in collaborative work either with other dance artists or artists from different art forms, Kathinka has been working with a number of artists within dance, visual art, music and theatre, starting with Noises for the Leg (2005) for 3 dancers and 3 musicians.
They are a sextet who produce an audio-visual spectacle of exciting physicality.
(Morning Star, K. Dallas, 2006)
In 2007 Kathinka started to work on installation performances in interdisciplinary settings. The first version of her installation performance series, Gleichzeitig (re-named: Before I decide in 2011), was premiered in May 2007 and was touring in England and Germany. Kathinka, as the 'visible choreographer', conducts the performers, their interaction and separates or joins together the performance elements as necessary. The work is based on improvisation, tasks and the accurate documentation of process in time via verbal and non-verbal structuring methods drawn from different art forms (e.g. task cards, graphic scores and conduction). The choreographer becomes the performer and the work; the maker becomes visible in the process of making.
Kathinka is continuously developing these ideas further; her artistic practice was part of her practice-led PhD at the University of Leeds, which she completed in 2017.
Audience response (2007-11):
I'm dazzled and intrigued – Very inspirational! – Very interesting on the senses –
Crazy, weird, innovative, insightful – Thank God, someone is pushing boundaries in dance in Leeds!
To get an insight into her work, Before I decide (2011):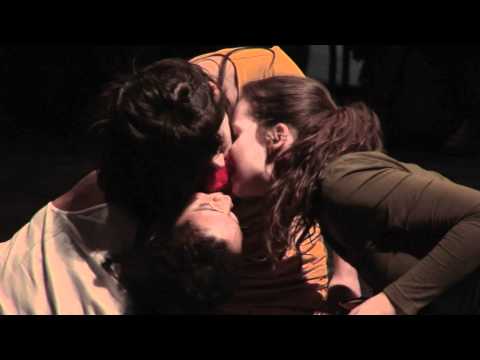 In 2010 Kathinka was commissioned to choreograph a piece for Verve, the postgraduate company of the Northern School of Contemporary Dance. Physical chain was premiered on the 19th February 2010 at the Riley Theatre in Leeds followed by a national and international tour of 5 months.  
You can find further examples of her commissioned work below.
Choreographic work since 2003:
2013
Before I decide #2
(New York)
2012
Delicate string
(Leeds, commissioned work for the Northern School of Contemporary Dance/NSCD)
2011
Momentary Distraction
(Leeds, commissioned work for the University of Leeds)
2011
Before I decide
(Leeds)
2010
Festessen
(Berlin, commissioned work for the Academy of the Arts Berlin)
2010
Rhizome
(Leeds, commissioned work for NSCD)
2010
Physical chain
(Leeds, commissioned work for Verve10, postgraduate company of NSCD)
2009
Gleichzeitig #3, installation performance
(Light Night/Leeds)
2009
Unearthing
(Leeds, commissioned work for NSCD)
2008
Sequenzen
(Berlin, commissioned work for the Academy of the
Arts Berlin)
2008
Gleichzeitig #2, installation performance
(Leeds)
2008
Traces
(Berlin, commissioned work for the dance college Balance 1)
2007
A Midsummer's Night Dream, a community dance work
(Berlin)
2007
Gleichzeitig, installation performance
(London, Leeds, Derby)
2006
Noises for the Leg in collaboration with the musician R. Ormrod
(Leeds, Hull, London)
2005
Cuttings!
(London)
2004
Reich's coffee
(London, Leeds, Warsaw)
2004
the open door
(Leeds, commissioned work for NSCD)
2003
inBEtween
(Leeds, Amsterdam, commissioned work for NSCD)